Community Foundations and Professional Wealth Advisors:
What's the Connection?
Community foundations like ours have spread throughout the country over the past twenty years. Donors and their advisors have come to appreciate our flexibility, our responsiveness, our value, and our shared interest in the communities we serve. Regardless of the many ways we can collaborate, community foundations and wealth advisors both agree on one important point: make sure, for your own best interests, that you have a plan and review it regularly. You will undoubtedly feel better when you do.
Philanthropic Leaders Advisory Network
The PLAN (Philanthropic Leaders Advisory Network) is an initiative of the Community Foundation specifically for Wealth Advisors. The goal is to partner with financial planners, attorneys, and other professional advisors dedicated to carrying out their clients' charitable goals while helping to build assets in their communities, and to build a network of professionals who understand that charitable planning can help grow their business.
The next PLAN seminar will be held June 27th at the Oakwood Restaurant in Davidsville, PA.
The seminar topic is "Charitable Planning Options & Use of Life Insurance to Make Charitable Gifts" presented by Robert Vamos, CLTC, LUTCF ®, AmeriServ  Financial Services. In addition, Mike Kane, Executive Director of the Community Foundation will provide a brief update on Foundation activities. For more details click here.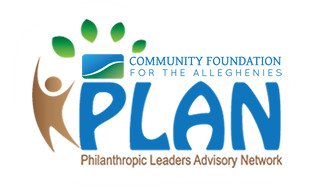 PLAN Members
Congratulations to our PLAN Members and thank you for your commitment to philanthropy in our region.
Michael Sahlaney
William Glosser
Gary Horner
John F. Paros
John J. Saracena
Tiffany S. Wetzel-Sturtz
Michelle Petrosky Moon
All at Barnes Saly & Company, P.C.
Theresa Bogovich
Educational Seminars
The members involved in the PLAN have sponsored several educational seminars for wealth advisors in our area, and we will continue to do so. Some of the topics we have addressed include charitable issues, but others have been about more general topics such as changing laws that concern advisors, and how those advisors can best serve their clients.
We are thankful for the advisors who have donated their time to make presentations:
Michael W. Sahlaney, Esq., Sahlaney & Dudeck
Mark Persun, Esq.
Todd Purich, Legacy Private Client Services
Lauren Cascino Presser, Esq., The Law Firm of Timothy M. Ayres, LLC
We also appreciate the over 200 professionals who have attended these seminars to date. We look forward to working with all of them and serving their best interests and the communities in which they serve.
For questions about the PLAN or our seminars, please contact Paula L. Hencel at (814) 209-8663.