Community Foundations and Professional Wealth Advisors:
What's the Connection?
Because we are in the business of forever, community foundations are in a unique position to understand community needs now and in the future. Donors and their advisors have come to appreciate our flexibility, our responsiveness, and our shared interest in making our corner of the world a better place.
Philanthropic Leaders Advisory Network
The Philanthropic Leaders Advisory Network (PLAN) is an initiative of the Community Foundation specifically for wealth advisors, supporting the important work of local financial planners and attorneys and the relationships they've built with the clients who trust them.
CFA enhances this relationship by offering professional wealth advisors our broad-based knowledge of community needs, along with a deep well of experience in charitable giving. Through educational seminars, support materials, and cultivating a trusted network of professionals, we make sure the right people have the best information for making choices that reflect good intentions and good sense.
When your clients want to have a lasting impact on their community, we can help you execute their philanthropic intentions. You still manage their money—we'll manage the rest.
Click here to read more about joining PLAN or contact Donor and Development Services Officer Katrina Perkosky: (814) 208-8411 / [email protected].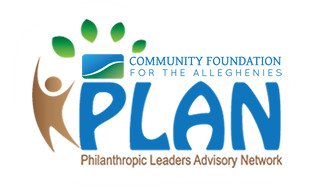 PLAN Members
Congratulations to our PLAN Members and thank you for your commitment to philanthropy in our region.
For questions about PLAN or our seminars, please contact
Katrina Perkosky at (814) 208-8411 or

[email protected]

.