Community Foundations and Professional Wealth Advisors:
What's the Connection?
Community foundations like ours have spread throughout the country over the past few decades. Donors and their advisors have come to appreciate our flexibility, our responsiveness, our value, and our shared interest in the communities we serve. Regardless of the many ways we can collaborate, community foundations and wealth advisors both agree on one important point: make sure, for your own best interests, that you have a plan and review it regularly. You will undoubtedly feel better when you do.
Philanthropic Leaders Advisory Network
The PLAN (Philanthropic Leaders Advisory Network) is an initiative of the Community Foundation specifically for Wealth Advisors. The goal is to partner with financial planners, attorneys, and other professional advisors dedicated to carrying out their clients' charitable goals while helping to build assets in their communities, and to build a network of professionals who understand that charitable planning can help grow their business.
PLAN provides 3-5 educational seminars each year for wealth advisors, providing professional continuing education credits. These seminars strengthen our relationships with financial planners and attorneys throughout the Alleghenies. Together, we'll stay current on the latest benefits of charitable giving, and create pathways to community empowerment that make good financial sense for your clients.
Click here to read more about joining PLAN or contact Donor Services Officer Paula Hencel: (814) 209-8663 / phencel@cfalleghenies.org.
We have two PLAN seminars coming up
August 21 at Indiana University of Pennsylvania: Avoiding #MeToo in the Workplace – Attorneys Alan Blanco & Sam Cordes will talk about obligations and best practices related to illegal harassment in the workplace. Go here for details about the seminar, including registration information.
August 23rd in Davidsville: 2017 Tax Cuts and Jobs Act – Amy Edmiston and Patti Hudson, both with Wessell & Co., will lead a program about the impact of legislative changes on charitable giving. Click here for information and registration links.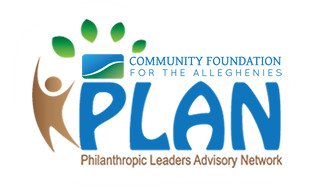 PLAN Members
Congratulations to our PLAN Members and thank you for your commitment to philanthropy in our region.
Educational Seminars
We are thankful for the following advisors who have donated their time to make presentations:
Robert Vamos, Ameriserv Financial Services – Charitable Planning Options & Use of Life Insurance to make Charitable Gifts / Creative Charitable Giving Strategies and Maintaining Financial Security
Brad Wingler, Nationwide Insurance, & Monica Garver, RTD Financial – Fiduciary Responsibilities Related to Informed Decisions about Retirement Plan Fees
Thomas R. Seitz, CPA, and Barry Gilchrist, CPA, Wessel & Company – Tax Strategies for Charitable Giving & Roth IRA Planning Techniques
Kayla Puchko Stephenson & Douglas Puchko, Puchko Financial Associates – Financial Planning & Personal Financial Strategies
Tiffany Sturtz, CPA and Michelle Petrosky Moon, Barnes Saly & Company, P.C. – Federal Estate Tax vs. PA Inheritance Tax and other recent Tax Law Changes You Need To Know
Bill Rice, Laurel Highlands Financial Services, LP – Creative Charitable Giving Strategies and Maintaining Financial Security
Matthew G. Melvin, Esquire, Barbera Law – Creative Charitable Giving Strategies and Maintaining Financial Security
We also appreciate the over 200 professionals who have attended these seminars to date. We look forward to working with all of them and serving their best interests and the communities in which they serve.
Wealth Advisor Resources
A Donor-Advised Fund at the Community Foundation for the Alleghenies provides an alternative to a private foundation that can save individuals and corporations considerable time and expense.
Community Foundation
for the Alleghenies

  Private Foundation

No initial tax filings
  Must file documents with IRS requesting status of Foundation
No incorporation documents required
  Must establish corporation
Cash Gifts Deductible at 50% AGI
  Cash Gifts Deductible at 30% AGI
Appreciated Assets Deductible at 30% AGI; 50% for cash gifts
  Appreciated Assets Deductible at 20% AGI; for cash gifts, 30%
Real Estate contributed during life deductible at Fair Market Value
  Real Estate contributed during life only deductible at basis
No Excise Taxes
  Excise Taxes of 2% of Net Investment Income
No annual pay-out
  Pay-out required: 5% of assets annually
Very efficient, low cost
  More costly, accounting, legal & tax
Professional staff Professional investment management
  Most Private Foundations are too small to afford staff and liability insurance
Anonymity if desired
  990 PF available to all via internet
Quarterly reports with history of gifts and grants
Committed to help donors achieve charitable goals.
Visit the "Financials" section on our About page to view this information.
Visit our Legacy Society page to learn more about how community members can leave a gift to the Foundation through their will or estate plan to benefit the organizations and causes they care about most.