Community Foundations and Professional Wealth Advisors:
What's the Connection?
Because we are in the business of forever, community foundations are in a unique position to understand community needs now and in the future. Donors and their advisors have come to appreciate our flexibility, our responsiveness, and our shared interest in making our corner of the world a better place.
Philanthropic Leaders Advisory Network
The Philanthropic Leaders Advisory Network (PLAN) is an initiative of the Community Foundation specifically for wealth advisors, supporting the important work of local financial planners and attorneys and the relationships they've built with the clients who trust them.
CFA enhances this relationship by offering professional wealth advisors our broad-based knowledge of community needs, along with a deep well of experience in charitable giving. Through educational seminars, support materials, and cultivating a trusted network of professionals, we make sure the right people have the best information for making choices that reflect good intentions and good sense.
When your clients want to have a lasting impact on their community, we can help you execute their philanthropic intentions. You still manage their money — we'll manage the rest.
Click here to read more about joining PLAN or contact Donor and Development Services Officer Katrina Perkosky: (814) 208-8411 / kperkosky@cfalleghenies.org.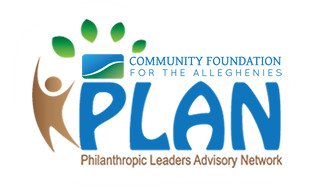 PLAN Members
Congratulations to our PLAN Members and thank you for your commitment to philanthropy in our region.
Educational Seminars
We are thankful for the following advisors who have donated their time and expertise to make presentations:
Dennis P. Kotzan, Kotzan CPA & Associates, PC – Charitable Giving After the 2017 Tax Act
Lauren Cascino Presser, Esq., The Law Firm of Timothy M. Ayres, LLC – Medicaid Basics & Long Term Care Planning Needs
Amy Edmiston, CPA, CSEP & Patti A. Hudson, CPA, Wessel and Company – Overview of 2017 Tax Cuts and Jobs Act
Bill Rice, Laurel Highlands Financial Services; Robert E. Vamos, CLTC, AmeriServ Financial Services; and Matthew Melvin, Esq., Barbara Law – Charitable Giving Options and Maintaining Financial Security
Douglas DeNardo, Esq., Rothman Gordon – Wealth Succession Planning Strategies for Families/Family Businesses
Wealth Advisor Resources
A Donor-Advised Fund at the Community Foundation for the Alleghenies provides an alternative to a private foundation that can save individuals and corporations considerable time and expense.
Community Foundation
for the Alleghenies

  Private Foundation

No initial tax filings
  Must file documents with IRS requesting status of Foundation
No incorporation documents required
  Must establish corporation
Cash Gifts Deductible at 50% AGI
  Cash Gifts Deductible at 30% AGI
Appreciated Assets Deductible at 30% AGI; 50% for cash gifts
  Appreciated Assets Deductible at 20% AGI; for cash gifts, 30%
Real Estate contributed during life deductible at Fair Market Value
  Real Estate contributed during life only deductible at basis
No Excise Taxes
  Excise Taxes of 2% of Net Investment Income
No annual pay-out
  Pay-out required: 5% of assets annually
Very efficient, low cost
  More costly, accounting, legal & tax
Professional staff Professional investment management
  Most Private Foundations are too small to afford staff and liability insurance
Anonymity if desired
  990 PF available to all via internet
Quarterly reports with history of gifts and grants
Committed to help donors achieve charitable goals.
Visit the "Financials" section on our About page to view this information.
Visit our Legacy Society page to learn more about how community members can leave a gift to the Foundation through their will or estate plan to benefit the organizations and causes they care about most.