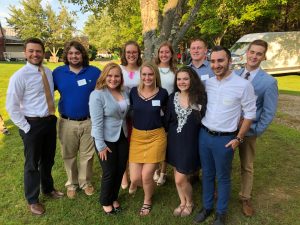 The Community Foundation for the Alleghenies' Youth Philanthropy Internship is a paid internship opportunity for this year's graduating seniors from Bedford, Cambria, Somerset, and Indiana counties. The internship runs seven weeks from mid-June to mid-August, typically Monday through Friday from 9:00 a.m – 4:00 p.m.
As a youth intern you will have an opportunity to:
Meet new people from other schools
Explore our region
Learn something new everyday
Earn money
Make an impact in your community
Build your professional network
Have an internship before college
And more!
The Summer 2020 internship will be the eighth year for the program. The purpose of the internship is to involve youth in the community and teach them about philanthropy, marketing techniques, and how to help meet community needs. After exploring community issues, the interns will develop a grantmaking program and work with local nonprofits on a wide variety of projects.
Click here for a complete job description.
Click here to submit a 2020 online application. The deadline to apply is March 13, 2020.
If you have any questions about the program do not hesitate to contact Angie Berzonski.